Alexis Tsegba is one artist we cannot help but admire.
As a 7-year-old growing up in Benue State, Nigeria, Alexis Tsegba loved watching her teenage cousin draw natural, flowing pencil strokes to create comics. But when she asked him to teach her, he pushed her aside with a scoff and a "No!". Later, he offered her his mentorship in exchange for payment. But headstrong and determined, Tsegba picked up her own writing utensil and a sheet of paper and began meticulously sketching out what she remembers as one of her first works.
At 15, she remembers painting water-colors, and at 18, she moved on to acrylics. Despite studying law at the University of Reading, it wasn't until completing her Masters in Creative and Media Enterprise from the University of Warwick that she realized the infinite artistic possibilities available to her.
"It was really cool and fun moving away from law and doing something I was more excited about," she says. Her dissertation had been on freelancing and how to use Social Media and YouTube as tools for new media work; this abstract way of thinking helped her realize she could combine her eclectic love of such things as painting, sketching, photography, landscape, portraiture, and architecture. "I don't know why but writing my dissertation gave me inspiration to dabble in the digital art field," says Tsegba. She learned to compose images with all of these elements.
Tsegba is an artist who approaches new media art by creating visual experiences. Her surrealist portraits often feature mystical landscapes. She documents modern-day Africans in jarring settings and enthusiastically speaks about how her evocative collages center on Afrofuturism, reimagining religion and exploring gender.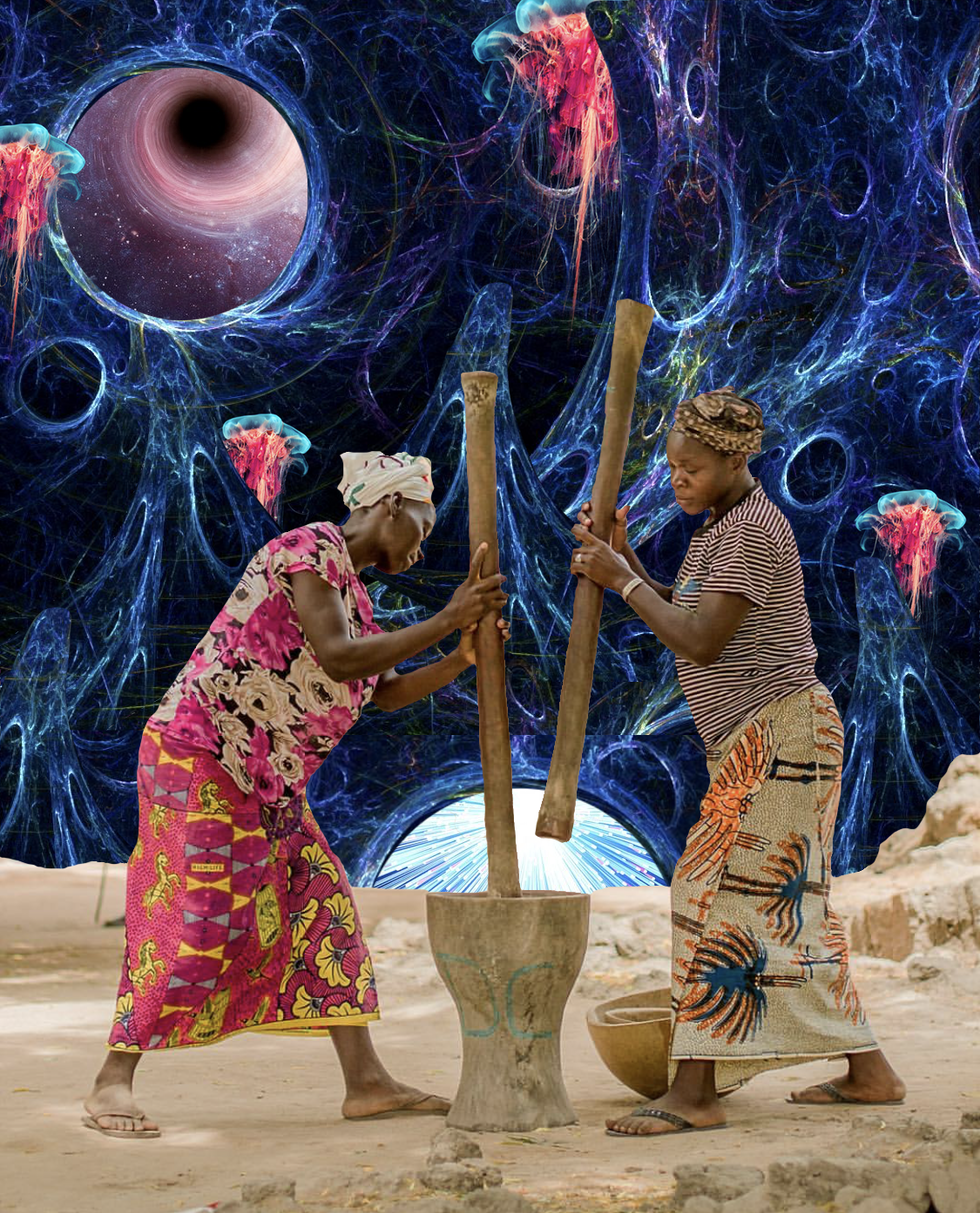 Tsegba has dedicated copious amounts of time to developing the concepts she wants highlighted and she may not believe it yet but her nonlinear work is disrupting the way individuals perceive art. With Afrofuturism, she states, "I aim to show the complexity of the relationship between our culture and how we use technology." She suggests we should, "change the narrative that we are this aqua people and that somehow being closer to nature is backwards."
Her works touch on what our reality is now and where it could be. With religion, she recalls, "I was raised Christian and because I was interested in theology I would read about other religions." Her curiosity has brought about her need to re-envision the things she doesn't agree with in the Bible. Beyond this, she explores the stereotypical assumptions African people tend to have about gender. She refutes the, "narrative in Nigeria that men are not supposed to be physically close or show affection or emotion. When men are seen as close with one another, it's seen as diabolical." She, instead, celebrates closeness and tenderness between men.
As one would imagine, Tsegba's process is one comprised of trial and error, researching and "piecing images together to find a story." She pushes boundaries much like the individuals who influence her own work. She draws inspiration from collage artist Victoria Topping and her use of the senses to create vibrant pieces; illustrator Christoph Niemann from whom she's learned to see the world as an abstract body of shapes, forms, and structures; writer Chimamanda Adichie who has taught her to harness the ability to be unafraid to speak out when she feels something doesn't sit right; and she's gawked at the skill and scale of fellow Nigerian visual artist Njideka Crosby and the portrayal of tenderness she employs while portraying ordinary Nigerian settings.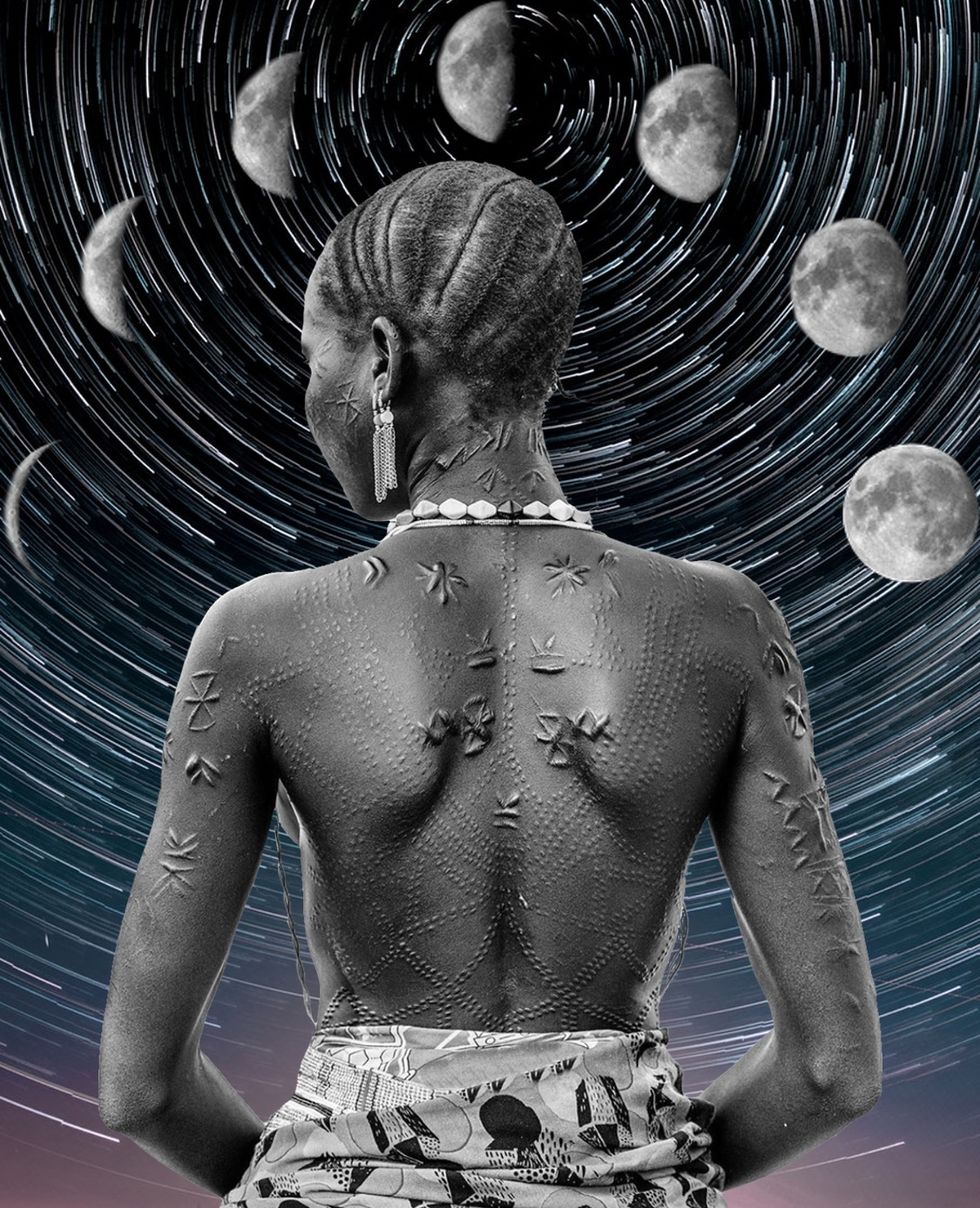 Despite stating that she's "holding back", Tsegba's virtual body of work speaks volumes. Are you a creative Leading Lady? Let Alexis Tsegba inspire you today!
Source: OkayAfrica