Thursdaline Peter, is a Nigerian a self defense advocate fighting domestic and all forms of violence and abuse against women through martial arts. It is not news that violence against women is rampant and not enough is being done by the government to support charities and non-profit organizations that are working to counteract this violence, so even though taekwondo originated in Korea, Peter is steadily using taekwondo and self-defense skills to inspire confidence in Nigerian women.
As Nigeria's youngest Taekwondo referee and Founder of The Body Dynamics, where she teaches Taekwondo, self defense, and works as a fitness trainer, Peter was inspired to join Taekwondo to fight violence against women. She trains people on how to defend themselves in face of danger and also takes her gender equality and self-defense advocacy to secondary schools across the country.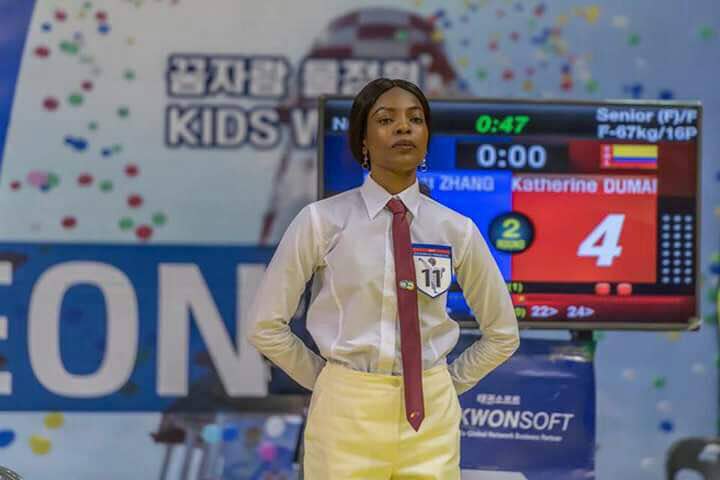 Speaking with BBC News Pidgin, Peter said that she was inspired to join taekwondo to fight violence against women. Not allowing herself to be intimidated based on her gender, she took part in every training. This made her a strong believer in the equality of the sexes. While training young girls at her academy, Body Dynamics, her message is always clear: "Don't let anyone talk you into believing that you're weak, that girls and boys are different. Girls and boys have equal rights. You are strong. You have the strength."
Recognized by World Taekwondo for her work, she has represented the country in competitions in Africa and Asia and has won medals from them and as Nigeria's youngest taekwondo referee, Peter won the best international referee award at the 2017 Taekwondo World Championships, and the best Gyorugi referee award at the 2017 Chuncheon Korea Open International Championships.
We celebrate Thursdaline Peters for chosing a dynamic medium to showcase her advocacy. She encourages women to empower themselves and denounces domestic violence.